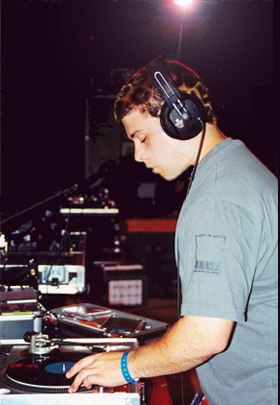 JORDAN TESCHKE
Jordan is an underground techno DJ from Waterloo, Canada.
The seeds of his love for underground techno were planted early in his highschool years when he listened to late night radio sounds from the UK. He bought his first turntables and began playing records with his friends, and within a couple years found himself DJing seriously. Now, five years later, he practices two hours a day, DJs three or more times a month, designs rave flyers, and occasionally plays live PA and promotes underground events.
He explains that a good DJ knows his audience, can beatmatch, has good mixing skills and excellent track selection. You have to pay your dues in the entertainment industry, getting known in the underground scene. Mixing skills are not to be underestimated. The days of the innovators are no longer new and DJs in the scene are expected to have topnotch skills.
Although he is constantly looking for new music, his favourite influences currently include Richie Hawtin, Jeff Mills and Marco Corolla. One of his more memorable events was early on in his DJing career, when too fresh to really know, he played on the same bill as Juan Atkins, the Godfather of Techno. Flyers of raves he has played at cover an entire wall of his room where his techno studio resides.
DISCOGRAPHY
Modern Drum Architecture
Reformation
The Grid