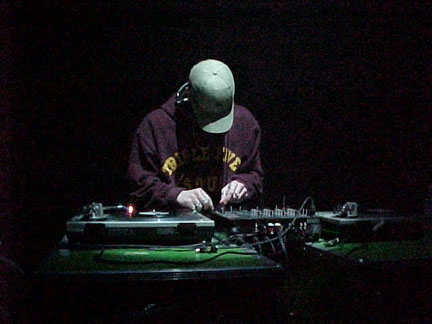 JEREMY DAWSON
Slyder, Cloud2ground, Right Bros., R.R.D.S., Paradigm... the face behind the music is Jeremy Dawson from Studio City, Los Angeles. A slew of singles released on vinyl this year and a long list of albums mark this 25-year-old DJ's artistic impact on the dance culture in America. Originally from Oklahoma, where his first efforts led him to be a top DJ and promoter at The Forum nightclub, he then moved to Texas and later to Los Angeles where he is now booking the Caffeine Tour 2001 in Europe and America, DJing and producing his original music, printing flyers, and raising his cat Neo.
Most of his recent shows involve massives and raves. In a room packed with three or four thousand people, with powerful sound systems, Jeremy describes his favourite part of the night as "watching the vibe in a room get to a point where some people just stop dancing and stand their with their mouth hanging open....because their body just can't handle what is going through it." Last weekend he played with Derrick Carter, Icey, AK1200, and Dahoyta in Dallas. Next spring he plans to tour in Europe.
His own music is epic and beautiful, expressive and gripping, some of it inspired by emotional pain and inner warfare of shattered relationships and his past. He lists his musical influences as Jesus Jones, Delirious, Lightning Seeds, Cure, Nine Inch Nails, Vangelis, and Pink Floyd. Jeremy has brought some great epic trance and progressive house to the dancefloor, and proven himself an original in the continuous flow of underground dance music.
DISCOGRAPHY
recent 2000/2001 Singles:
"Lex Luther" UK Hardhouse 12 inch - Right Bros., Topaz records (NYC), July 2001
"Coming Back" Epic Trance 12 inch - Slyder, Topaz records
"Score" epic trance 12 inch - Slyder, Guidance Recordings (Chicago)
"Score" licensed to Kinetic Records "Live at Berlin Love Parade"
"Score" - licensed to MTV Music productions via Kinetic Records, Featured on MTV "Rays House" mixed cd, July 2001
"Innerbatle" prog house 12 inch - R.R.D.S., Guidance Recordings, May 2001
"Neo(The One)" epic trance 12 inch - Slyder, Guidance Recordings, June 2001
"Multiple Cats/Jetscreem E.P." Prog house - Slyder, Guidance Recordings, June 2001
"Carry On" epic trance - Slyder, Nsoul Records (Cali)
"Boomerang" epic trance 12 inch - cloud2ground, Nsoul Records
Cloud2ground "Madness for Love" and "Face to Face" licensed to "Mercy Streets" Soundtrack, Nsoul Records, Sept 2000
Cloud2ground "Face to Face" and "New Score in Siberia" licensed to MTV's Road Rules, June 2000

Cloud2ground "The Gate Beautiful" N-Soul Records, 1999
Cloud2ground "emaj-n" N-soul Records, Sept 1997
Cloud2ground "untitled" M&M records, May 1996 (M&M records 405.528.3548)
Paradigm "Fish" Owl Records/McJames Music Nashville, Sept 1995 (contact Steven 405.878.9913)
Paradigm "New York EP" Owl Records/McJames Music Nashville, Oct 1994
Paradigm "Can't Explain" McJames Music Nashville, Dec 1993